Patron Sponsors

Technician Safety: Best Practices in the Fab Lab O&P fabrication is rewarding work, but accidents happen, and the possibility exists that at any moment a technician could be injured. Given the hazards inherent to technicians' work, fabrication lab managers are keenly aware of workplace safety regulations and best practices. Technician
Featured Videos
OANDP-L Posts
Yesterday

Harry Layton CPO/L

Warren Mays

Chris Jones

ted

Tuesday

Strelow,Bruce

jhattingh

Duncan Campbell

C McConnell

Keven

Michael Johnson
Advertisement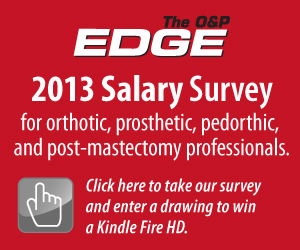 Introducing EDGE Custom Publications!
Product Directory Highlights
New Stride4 Stance Control Knee Joint
The Stride4 is the latest addition to the Stride family of stance control orthotic knee joints from Becker. The joint features 3 operation modes: Stance control, free motion & locked with stance phase knee flexion.
O&P World Congress ~ Sept 18-21, 2013
You & 2,500+ O&P professionals from around the world will experience blockbuster programming, world renowned experts, networking extraordinaire and the largest display of exhibits in the western hemisphere.
NEW! ACS, Advanced Cover Systems
Fabtech Systems Advanced Cover Systems (ACS), Prosthetic limb covers are designed to provide maximum protection for your patients' prosthesis from the elements encountered in everyday use and sports.
kinderBAND Cranial Helmets - BioSculptor
kinderBAND is a custom made cranial remolding orthosis for infants. Practitioners can send in casts or BioScanner files for fabrication. Files may be uploaded to noplaster.com.
Cascade Offers Proteor Dynastar
Dynastar will provide daily comfort to all moderately active amputees. Great comfort at heel level thanks to a flexible core that links both parts of the foot. Receive 10% off from now through January 31st, 2013.
Industry Stocks
Symbol

Last

Change

Volume

HGR
31.07
-0.61
165320
NSDQ
3498.965
+33.722
0
As of 5/22/2013
Popular Resource Links