Featured Videos
OANDP-L Posts
Last Week

Jacqueline Schmit

Kip Hicks

captnkw

Karl Entenmann

Lauren Anderson

Stephan Manucharian

Seth O'Brien

Joan K. Cestaro, CP

Schwelke, Eric

Loren Schubert
Advertisement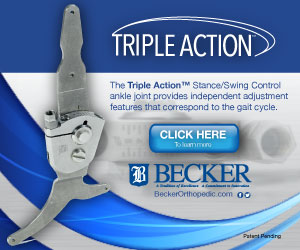 EDGE Quick Credit is a simple way to offer and market one- to two-credit continuing education courses about products advertised in The O&P EDGE. Courses can be taken from the comfort and convenience of your home or office.
Product Directory Highlights
Cascade Offers Tamarack® Flexure Joints™
Tamarack Joints from Becker self co-align the medial and lateral joint axes. The high strength inner filament core prevents elongation and ensures precise hinging action. Molding Dummies are reusable 5 to 10 times.
kinderBAND Cranial Helmets - BioSculptor
kinderBAND is a custom made cranial remolding orthosis for infants. Practitioners can send in casts or BioScanner files for fabrication. Files may be uploaded to noplaster.com.
Industry Stocks
Symbol

Last

Change

Volume

HGR
N/A
+0
0
NSDQ
5538.73
-35.39
1521734789
DOW
N/A
N/A
N/A
As of N/A
Popular Resource Links