Patron Sponsors

Featured Videos
OANDP-L Posts
Yesterday

Markus Saufferer

Thomas L Malone

Steven L. Fries, CPO

Jeff Boonstra

Wednesday

Patrick Gross

Sam Brouillette

Joe Perry CP RFO

Eva Hughes

Wil Haines

Dr King
Advertisement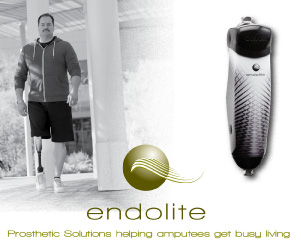 EDGE Quick Credit is a simple way to offer and market one- to two-credit continuing education courses about products advertised in The O&P EDGE. Courses can be taken from the comfort and convenience of your home or office.
Product Directory Highlights
Cascade Offers Catalina™ 631 & 637
The Catalina limits motion and provides effective compression for the relief of lower back pain, making it ideal throughout rehabilitation treatment.
Compact Double Action Ankle Joint
The Compact Double Action Ankle Joint from Becker provides optimal control in the sagittal plane and increases mediolateral stability. Comes fully assembled and is designed specifically for use with thermoplastics.
kinderBAND Cranial Helmets - BioSculptor
kinderBAND is a custom made cranial remolding orthosis for infants. Practitioners can send in casts or BioScanner files for fabrication. Files may be uploaded to noplaster.com.
Silicone Comfort for Transfemoral Use
Alpha Silicone AK Liners use a unique blend of medical-grade silicone, vitamin E, and skin conditioners to yield a smooth, nongreasy, and nontacky surface that is comfortable against the skin. Our symmetrical profile provides extra protection to the distal femur and allows the liner to be rotated for extended wear.
Evolution Custom Liners
Designed by a certified prosthetist, Evolution Silk custom liners fit the exact needs of each user. Evolution Silk liners are manufactured from a consistent proven formula of unique medical grade silicone.
Industry Stocks
Symbol

Last

Change

Volume

HGR
37.81
0.00
0
NSDQ
3998.403
-5.41
0
As of 12/12/2013
Popular Resource Links