Featured Videos
OANDP-L Posts
Last Week

Billy Kehagias

Richard Feldman

Doug Jack

Rick

Sunny Hills Admin

R. Klee Burri

David Gross

Karla Spero

Kinsey Herrin

C Phillips
Advertisement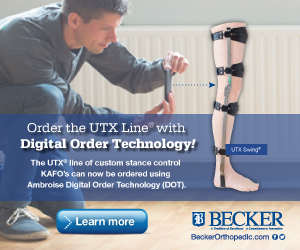 EDGE Quick Credit is a simple way to offer and market one- to two-credit continuing education courses about products advertised in The O&P EDGE. Courses can be taken from the comfort and convenience of your home or office.
Product Directory Highlights
kinderBAND Cranial Helmets - BioSculptor
kinderBAND is a custom made cranial remolding orthosis for infants. Practitioners can send in casts or BioScanner files for fabrication. Files may be uploaded to noplaster.com.
Cascade Offers WillowWood One Duo Liner
Designed for transtibial or transfemoral use, the Alpha Duo Liner may be used with suction suspension or elevated vacuum. The liner also retrofits with the fabricless Alpha SmartTemp­® Liner.
Industry Stocks
Symbol

Last

Change

Volume

HGR
N/A
+0
0
NSDQ
5838.58
+23.68
1521734789
DOW
N/A
N/A
N/A
As of N/A
Popular Resource Links