Featured Videos
OANDP-L Posts
Last Week

Jacqueline Schmit

Kip Hicks

captnkw

Karl Entenmann

Lauren Anderson

Stephan Manucharian

Seth O'Brien

Joan K. Cestaro, CP

Schwelke, Eric

Loren Schubert
Advertisement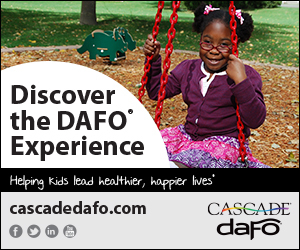 EDGE Quick Credit is a simple way to offer and market one- to two-credit continuing education courses about products advertised in The O&P EDGE. Courses can be taken from the comfort and convenience of your home or office.
Product Directory Highlights
kinderBAND Cranial Helmets - BioSculptor
kinderBAND is a custom made cranial remolding orthosis for infants. Practitioners can send in casts or BioScanner files for fabrication. Files may be uploaded to noplaster.com.
Cascade Offers Raize™ Ankle/Foot System
The Raize is a unique microprocessor ankle/foot system in a low profile, lightweight design. Its dorsiflexion range reduces damaging forces on the residual limb and enhances stability on slopes and slippery surfaces.
Industry Stocks
Symbol

Last

Change

Volume

HGR
N/A
+0
0
NSDQ
5574.12
+26.63
1521734789
DOW
N/A
N/A
N/A
As of N/A
Popular Resource Links