Patron Sponsors

Tales from the Front Lines Practitioners who have started their own O&P businesses share what they learned in the process as a guide for those considering stepping out as a new business owner. Business
Featured Videos
OANDP-L Posts
Today

Johnston,Ryan

Steve Smith

Paula Pivko

Yesterday

Bryan King

Ben K (OC)

Tom Heckman

Benjamin Kuhse

Doug Pringle

Eric Eisenberg

Monday

Jeremy Sprouse
Advertisement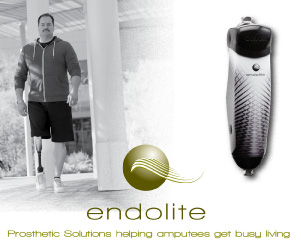 EDGE Quick Credit is a simple way to offer and market one- to two-credit continuing education courses about products advertised in The O&P EDGE. Courses can be taken from the comfort and convenience of your home or office.
Product Directory Highlights
Cascade Offers Swiftwick® Valor™ Sock
The Valor combines Olefin, a hollow Nobel Prize-winning fiber, with a sculptured compression construction that incorporates Swiftwick's patented Active-Antimicrobial technology.
kinderBAND Cranial Helmets - BioSculptor
kinderBAND is a custom made cranial remolding orthosis for infants. Practitioners can send in casts or BioScanner files for fabrication. Files may be uploaded to noplaster.com.
Orthofeet® Naples 883 from PEL
Relieve foot pain from by bunions, hammertoes & plantar fasciitis with the Naples 883 sandal from Orthofeet. 
This comfortable sandal is designed with unique comfort features: anatomical orthotic support, extra toe room, customized fit & Ergonomic Stride sole.
Evolution Custom Liners
Designed by a certified prosthetist, Evolution Silk custom liners fit the exact needs of each user. Evolution Silk liners are manufactured from a consistent proven formula of unique medical grade silicone.
Industry Stocks
Symbol

Last

Change

Volume

HGR
19.92
-0.60
412596
NSDQ
4422.085
-71.305
0
As of 10/1/2014
Popular Resource Links