Featured Videos
OANDP-L Posts
Last Week

Sara Beck

Joan Dallas

Rick Stapleton

Berry

Brittany Stresing, CPO

Randy McFarland

Barb Boutin

Joan K. Cestaro, CP

Tod Norton

Scholtes, Laura
Advertisement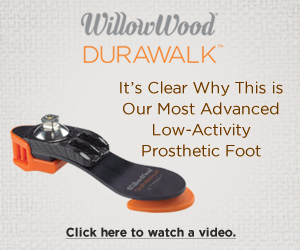 EDGE Quick Credit is a simple way to offer and market one- to two-credit continuing education courses about products advertised in The O&P EDGE. Courses can be taken from the comfort and convenience of your home or office.
Product Directory Highlights
kinderBAND Cranial Helmets - BioSculptor
kinderBAND is a custom made cranial remolding orthosis for infants. Practitioners can send in casts or BioScanner files for fabrication. Files may be uploaded to noplaster.com.
KINEGEN.air-active - Streifeneder USA
The 3A1800 KINEGEN.air-active by Streifeneder USA is the latest addition to the KINEGEN knee series. It's sleek design is a 4 bar, pneumatic knee with a 150º flexion angle. Rediscover Us!
Evolution Custom Liners
Designed by a certified prosthetist, Evolution Silk custom liners fit the exact needs of each user. Evolution Silk liners are manufactured from a consistent proven formula of unique medical grade silicone.
Cascade Offers Flex-Foot® Assure EVO™
More than just a comfortable foot, the easy-to-fit Flex-Foot Assure is a simple yet dynamic solution for patients who need the benefits of performance in an easy-to-walk design.
Industry Stocks
Symbol

Last

Change

Volume

HGR
22.67
+0.33
175264
NSDQ
5005.39
+63.97
0
DOW
N/A
N/A
N/A
As of 5/1/2015
Popular Resource Links