Featured Videos
OANDP-L Posts
Yesterday

Jack Ben-Ezra

Wednesday

Claudia Zacharias

copc

Paula Pivko

Frank Frankovitch, CPO

Tuesday

Zia Rahman

David Hansford

Jack Ben-Ezra

Joann Marx, CPO

Monday

Daniel Sims
Advertisement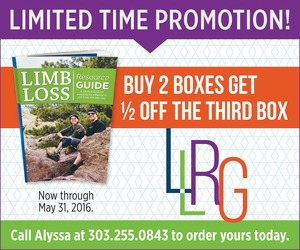 EDGE Quick Credit is a simple way to offer and market one- to two-credit continuing education courses about products advertised in The O&P EDGE. Courses can be taken from the comfort and convenience of your home or office.
Product Directory Highlights
Streifyflex Colors - Streifeneder USA
Available in a wide variety of colors, Streifyflex by Streifeneder USA is a permanently elastic thermo-forming film in either 2mm or 4mm thickness. A lower density PE choice for innovative O&P care products.
WillowWood LimbLogic Sleeve
Our LimbLogic Sleeve works with the LimbLogic controller to ensure an airtight, secure system. Has repositionable & repairable cuff. Available in black or buff.
Cascade Offers Raize™ Ankle/Foot System
The Raize is a unique microprocessor ankle/foot system in a low profile, lightweight design. Its dorsiflexion range reduces damaging forces on the residual limb and enhances stability on slopes and slippery surfaces.
kinderBAND Cranial Helmets - BioSculptor
kinderBAND is a custom made cranial remolding orthosis for infants. Practitioners can send in casts or BioScanner files for fabrication. Files may be uploaded to noplaster.com.
Industry Stocks
Symbol

Last

Change

Volume

HGR
N/A
N/A
N/A
NSDQ
4691.57
-25.52
0
DOW
N/A
N/A
N/A
As of N/A
Popular Resource Links