Featured Videos
OANDP-L Posts
Yesterday

David Hendricks

Tuesday

Laura A Miller

UTP Journals

Doug Jack

shraddha rasal

Martin Andersson

Martin Andersson

Monday

Abby Chandler

Manisha Bhaskar

Laura A Miller
Advertisement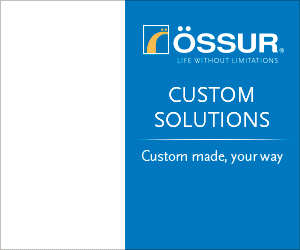 EDGE Quick Credit is a simple way to offer and market one- to two-credit continuing education courses about products advertised in The O&P EDGE. Courses can be taken from the comfort and convenience of your home or office.
Product Directory Highlights
Mobile Scanning Just Got Easier
OMEGA Scan, WillowWood's exclusive, custom-designed app for the Structure Sensor, is now available in the App Store. Finally...an app that works with OMEGA software!
Cascade Offers Raize™ Ankle/Foot System
The Raize is a unique microprocessor ankle/foot system in a low profile, lightweight design. Its dorsiflexion range reduces damaging forces on the residual limb and enhances stability on slopes and slippery surfaces.
kinderBAND Cranial Helmets - BioSculptor
kinderBAND is a custom made cranial remolding orthosis for infants. Practitioners can send in casts or BioScanner files for fabrication. Files may be uploaded to noplaster.com.
New TechMax Epoxy Resin Streifeneder USA
Our NEW TechMax Epoxy Resin is formulated specifically for technicians in the O&P industry. With a simple 2:1 mixing ratio, it delivers the highest quality product to your patients while maximizing efficiency in the lab.
Industry Stocks
Symbol

Last

Change

Volume

HGR
N/A
+0
0
NSDQ
5139.81
+29.76
1588125058
DOW
N/A
N/A
N/A
As of N/A
Popular Resource Links