Balancing Efficiency and Quality Over time, it can be difficult for practices to find ways to increase their efficiency and profitability. This article shares methods to streamline performance without sacrificing patient care. Business
Featured Videos
OANDP-L Posts
Today

kimberly lindsley

Anne Rowell

Yesterday

Jeff Arnette

Madden, Mike

Stark, Gerald

NAAOP

Dearing, Ruthie

William Lifford, CP

Jeff Arnette

Last Week

Joel Kempfer C.P.
Advertisement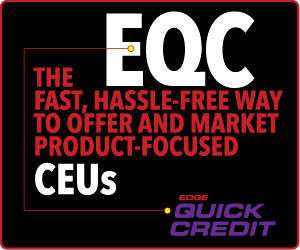 EDGE Quick Credit is a simple way to offer and market one- to two-credit continuing education courses about products advertised in The O&P EDGE. Courses can be taken from the comfort and convenience of your home or office.
Product Directory Highlights
Evolution Custom Liners
Designed by a certified prosthetist, Evolution Silk custom liners fit the exact needs of each user. Evolution Silk liners are manufactured from a consistent proven formula of unique medical grade silicone.
kinderBAND Cranial Helmets - BioSculptor
kinderBAND is a custom made cranial remolding orthosis for infants. Practitioners can send in casts or BioScanner files for fabrication. Files may be uploaded to noplaster.com.
New TechMax Epoxy Resin Streifeneder USA
Our NEW TechMax Epoxy Resin is formulated specifically for technicians in the O&P industry. With a simple 2:1 mixing ratio, it delivers the highest quality product to your patients while maximizing efficiency in the lab.
Exclusive to Cascade: ProComp
ProComp is a polypropylene-based composite that is stabilized with discontinuous carbon fiber. The individual fibers provide the ability of the composite to flow and stretch during melt temperature vacuum forming.
Industry Stocks
Symbol

Last

Change

Volume

HGR
17.54
-0.39
66067
NSDQ
4673.47
-103.04
0
DOW
N/A
N/A
N/A
As of 9/1/2015
Popular Resource Links