Featured Videos
OANDP-L Posts
Yesterday

Gary Cheney

Dennis Farrell, CP

Wednesday

Randy McFarland

Chet Dixon

Tuesday

Chris Jones

Kelli Huber

AABCP

Cara Negri

Monday

Dearing, Ruthie

Chris Phillips
Advertisement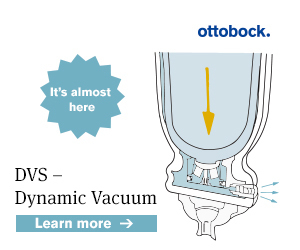 EDGE Quick Credit is a simple way to offer and market one- to two-credit continuing education courses about products advertised in The O&P EDGE. Courses can be taken from the comfort and convenience of your home or office.
Product Directory Highlights
KINEGEN.stream 3A2000 – Streifeneder USA
The KINEGEN.stream 3A2000 by Streifeneder USA is an optimal choice for highly active users. This polycentric knee joint with hydraulic swing phase control offers various connections. Click here to read more.
Cascade Offers Nabtesco Symphony Knee
This new knee joint has a stance-flexion feature that, while allowing a slight amount of flexion, instantly locks to prevent sudden buckling of the knee. It also has a hydraulic system that eases the initiating swing.
kinderBAND Cranial Helmets - BioSculptor
kinderBAND is a custom made cranial remolding orthosis for infants. Practitioners can send in casts or BioScanner files for fabrication. Files may be uploaded to noplaster.com.
DuraLite Foot: Performs with Value
WillowWood's DuraLite is a lightweight, responsive foot for active amputees. Weighs only 356g. Height is adjustable from 13" to 5.9". Features split heel, urethane toe pad & 3 proximal attachment options. Great value!
Industry Stocks
Symbol

Last

Change

Volume

HGR
N/A
N/A
N/A
NSDQ
4901.77
+6.88
0
DOW
N/A
N/A
N/A
As of N/A
Popular Resource Links