Featured Videos
OANDP-L Posts
Today

Rick Stapleton

Gary Bedard

Yesterday

Cindy Anderson, Billing

Dianne Farabi

Last Week

Anne Whitney

Michael Carzoli

Lane Ferrin

ted

Glenn

Fenner Inc.
Advertisement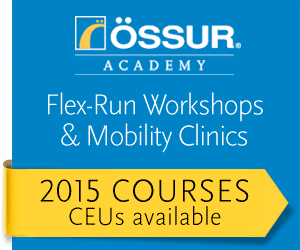 EDGE Quick Credit is a simple way to offer and market one- to two-credit continuing education courses about products advertised in The O&P EDGE. Courses can be taken from the comfort and convenience of your home or office.
Product Directory Highlights
Exclusive to Cascade: ProComp
ProComp is a polypropylene-based composite that is stabilized with discontinuous carbon fiber. The individual fibers provide the ability of the composite to flow and stretch during melt temperature vacuum forming.
RHEO KNEE® 3 by Össur®
Featuring a faster swing extension, a new kinematic sensor for added stability and a more powerful actuator for increased resistance across a wider range of stance flexion.
kinderBAND Cranial Helmets - BioSculptor
kinderBAND is a custom made cranial remolding orthosis for infants. Practitioners can send in casts or BioScanner files for fabrication. Files may be uploaded to noplaster.com.
KINEGEN.air-active - Streifeneder USA
The 3A1800 KINEGEN.air-active by Streifeneder USA is the latest addition to the KINEGEN knee series. It's sleek design is a 4 bar, pneumatic knee with a 150º flexion angle. Rediscover Us!
Industry Stocks
Symbol

Last

Change

Volume

HGR
25.775
-0.665
99182
NSDQ
4982.045
-26.051
0
As of 3/3/2015
Popular Resource Links