Featured Videos
OANDP-L Posts
Tuesday

Jon Sensinger

Monday

M. Teri Powers-Watts, CPO, CPED

Paula Pivko

Ted Trower

Last Week

Tonja Randolph

David Hendricks

David Gross

Richard Feldman

Billy Kehagias

Richard Feldman
Advertisement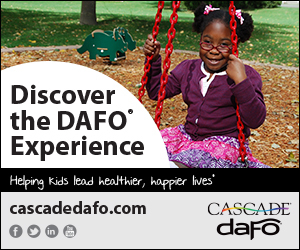 EDGE Quick Credit is a simple way to offer and market one- to two-credit continuing education courses about products advertised in The O&P EDGE. Courses can be taken from the comfort and convenience of your home or office.
Product Directory Highlights
kinderBAND Cranial Helmets - BioSculptor
kinderBAND is a custom made cranial remolding orthosis for infants. Practitioners can send in casts or BioScanner files for fabrication. Files may be uploaded to noplaster.com.
Cascade Offers College Park Horizon Lite
Brings College Park composite expertise to a carbon fiber laminate foot design. With an ultra-low profile and ultra-light weight design, the dynamics of the foot provide superior energy return for high-impact K-3 users.
Industry Stocks
Symbol

Last

Change

Volume

HGR
N/A
+0
0
NSDQ
5845.31
+9.80
1521734789
DOW
N/A
N/A
N/A
As of N/A
Popular Resource Links