Featured Videos
OANDP-L Posts
Yesterday

Chad McCracken

Thursday

James Fenton

Chad McCracken

Aaron Laster

Moretto, David

Wednesday

Glenn

Heather Mackenzie

Bryan King

Sarah Katchpole

John Brinkmann
Advertisement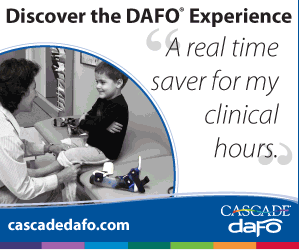 EDGE Quick Credit is a simple way to offer and market one- to two-credit continuing education courses about products advertised in The O&P EDGE. Courses can be taken from the comfort and convenience of your home or office.
Product Directory Highlights
Cascade Offers Deburring Tool
Great for deburring and shaping edges on AFOs. Featuring a superior design that will debur hard plastics effortlessly without the fear of cutting your hand.
kinderBAND Cranial Helmets - BioSculptor
kinderBAND is a custom made cranial remolding orthosis for infants. Practitioners can send in casts or BioScanner files for fabrication. Files may be uploaded to noplaster.com.
Streifyflex Colors - Streifeneder USA
Available in a wide variety of colors, Streifyflex by Streifeneder USA is a permanently elastic thermo-forming film in either 2mm or 4mm thickness. A lower density PE choice for innovative O&P care products.
Industry Stocks
Symbol

Last

Change

Volume

HGR
22.56
-0.36
360695
NSDQ
4891.22
+27.86
0
DOW
N/A
N/A
N/A
As of 3/27/2015
Popular Resource Links