Patron Sponsors

Featured Videos
OANDP-L Posts
Today

Paul E Prusakowski

Loren Schubert

Yesterday

Emily Rau

c g

Kaylee Lindquist

Eileen Levis

Eileen Levis

Wednesday

Paula Pivko

Tod Norton

Loren Schubert
Advertisement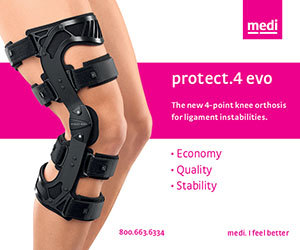 EDGE Quick Credit is a simple way to offer and market one- to two-credit continuing education courses about products advertised in The O&P EDGE. Courses can be taken from the comfort and convenience of your home or office.
Product Directory Highlights
kinderBAND Cranial Helmets - BioSculptor
kinderBAND is a custom made cranial remolding orthosis for infants. Practitioners can send in casts or BioScanner files for fabrication. Files may be uploaded to noplaster.com.
LimbLogic Communicator
This software interfaces with a LimbLogic controller via BlueTooth Low Energy technology. For in-office use to easily manage patient LimbLogic units even when patient forgets fob.
RHEO KNEE® 3 by Össur®
Featuring a faster swing extension, a new kinematic sensor for added stability and a more powerful actuator for increased resistance across a wider range of stance flexion.
Cascade Offers LimbLogic® Sleeve
The LimbLogic sleeve works with the Limblogic controller to ensure an airtight, secure system. This fabric-covered silicone sleeve comes with a separate silicone cuff.
Industry Stocks
Symbol

Last

Change

Volume

HGR
23.93
+0.40
277069
NSDQ
4630.742
+64.604
0
As of 10/31/2014
Popular Resource Links