Featured Videos
OANDP-L Posts
Yesterday

Sanjeev Kashyap

Sunny Jang

John P. Boldt

NAAOP

Jack Richmond

Last Week

William Lifford

Rick Stapleton

Laura A Miller

Stephanie M Legare-Romero

Sharon Andrews
Advertisement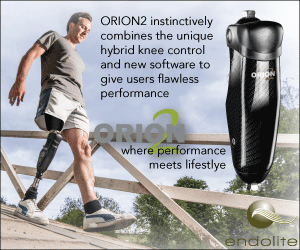 EDGE Quick Credit is a simple way to offer and market one- to two-credit continuing education courses about products advertised in The O&P EDGE. Courses can be taken from the comfort and convenience of your home or office.
Product Directory Highlights
2015 AOPA National Assembly ~ San Antonio
Register today for the AOPA National Assembly, October 7-10, 2015 at the Henry B. Gonzalez Convention Center in downtown San Antonio, Texas. The planning committee has been hard at work to create a unique educational experience for you.
Exclusive to Cascade: ProComp
ProComp is a polypropylene-based composite that is stabilized with discontinuous carbon fiber. The individual fibers provide the ability of the composite to flow and stretch during melt temperature vacuum forming.
WillowWood C-Fab for Socket Work
WillowWood's Custom Solutions provides numerous prosthetic socket lamination services: single wall, double wall, exoskeletal, & flexible inner sockets with laminated frames.
kinderBAND Cranial Helmets - BioSculptor
kinderBAND is a custom made cranial remolding orthosis for infants. Practitioners can send in casts or BioScanner files for fabrication. Files may be uploaded to noplaster.com.
Industry Stocks
Symbol

Last

Change

Volume

HGR
21.14
+0.12
16199
NSDQ
5102.89
-12.50
0
DOW
N/A
N/A
N/A
As of 8/4/2015
Popular Resource Links