Featured Videos
OANDP-L Posts
Wednesday

Lajoie, Julie Lynn

Rick Stapleton

Jacqueline Schmit

Tuesday

Kassie Phillips

Pat McTaggart

Taylor, Mark

Monday

Dearing, Ruthie

Clinical Orthotic Consultants

M. Teri Powers-Watts, CPO, CPED

Mitchell Hirsch
Advertisement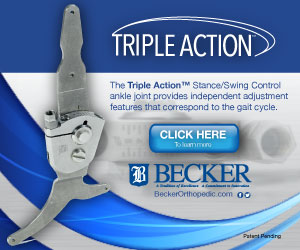 EDGE Quick Credit is a simple way to offer and market one- to two-credit continuing education courses about products advertised in The O&P EDGE. Courses can be taken from the comfort and convenience of your home or office.
Product Directory Highlights
Cascade Offers Proteor Matik Knee
Designed to provide an affordable 4-axis pneumatic knee for patients up to 275 lbs. It is simply and effectively designed to provide high function with low maintenance.
Orion3 MPK control you can depend on
Orion3 offers level 3 users situational awareness, enhanced stability performance and natural efficient motion. Features: Standing support mode, stumble recovery, sitting support, 3 day battery life and weatherproof.
kinderBAND Cranial Helmets - BioSculptor
kinderBAND is a custom made cranial remolding orthosis for infants. Practitioners can send in casts or BioScanner files for fabrication. Files may be uploaded to noplaster.com.
Provel CAD Modification Software
Modify, carve, and thermoform. Newly released ProvelCAD modification software is easy to use and template based. The C7 Carver is not only fast and precise, but its self-contained dust collection system is extremely quiet.
Industry Stocks
Symbol

Last

Change

Volume

HGR
N/A
+0
0
NSDQ
5255.65
+4.55
1521734789
DOW
N/A
N/A
N/A
As of N/A
Popular Resource Links