Featured Videos
OANDP-L Posts
Today

kevin

Yesterday

Richard Feldman

Melissa Edwards

ann

Last Week

captnkw

mcmok

Brittany Stresing

DOUGLAS VAN ATTA

Rick Stapleton

Justin Tegerstrand
Advertisement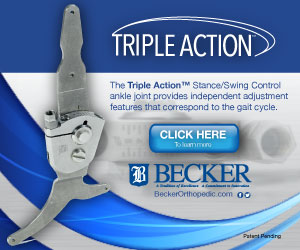 EDGE Quick Credit is a simple way to offer and market one- to two-credit continuing education courses about products advertised in The O&P EDGE. Courses can be taken from the comfort and convenience of your home or office.
Product Directory Highlights
Cascade Offers Absolute Straight Sleeve
Featuring a combination of extra-soft gel and Spectralon fabric, the Absolute Straight Sleeve creates a secure, comfortable and durable fit for your patients.
kinderBAND Cranial Helmets - BioSculptor
kinderBAND is a custom made cranial remolding orthosis for infants. Practitioners can send in casts or BioScanner files for fabrication. Files may be uploaded to noplaster.com.
New Socket Comfort – Streifeneder USA
Our new silicone liners are anti-bacterial and offer distal rotation control, providing maximum wearing comfort and improved stability. Options are available in both 3 and 6mm, with and without distal connection.
Magnum…Built Heavy Duty
A complete socket-to-foot solution, the Magnum Heavy Duty System is designed to support 350 pounds. Multiple options for toe resistance, heel height & connectors are available. Purchase as kit or individual components.
Industry Stocks
Symbol

Last

Change

Volume

HGR
N/A
+0
0
NSDQ
5217.69
-42.38
1588125058
DOW
N/A
N/A
N/A
As of N/A
Popular Resource Links