Featured Videos
OANDP-L Posts
Today

Schafer, Kristin

PMS

Anthony Gutierrez

Yesterday

Schwelke, Eric

Tuesday

Kim McQueen

Robin Seabrook

Monday

Julie Schwab

Last Week

Schafer, Kristin

Marty Mandelbaum

Ray Coble
Advertisement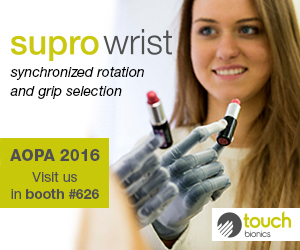 EDGE Quick Credit is a simple way to offer and market one- to two-credit continuing education courses about products advertised in The O&P EDGE. Courses can be taken from the comfort and convenience of your home or office.
Product Directory Highlights
medi USA - 4Seal
Featuring medi's unique Easy Glide Plus surface coating plus integrated sealing fins, the medi 4Seal TFS/TFC liner is effortless to apply, with no constriction in the sealing area. The smooth outer coating slides easily into the socket, without any need for donning aids or sprays.
KINEGEN.air-active - Streifeneder USA
The 3A1800 KINEGEN.air-active by Streifeneder USA is the latest addition to the KINEGEN knee series. It's sleek design is a 4 bar, pneumatic knee with a 150º flexion angle. Rediscover Us!
Experience Better Customer Service With PEL
Independent O&P Practitioners rate PEL highest in customer service, easiest distributor with which to work and offering the best overall value of service and price. For more information, contact PEL
Cascade Offers Proteor Matik Knee
Designed to provide an affordable 4-axis pneumatic knee for patients up to 275 lbs. It is simply and effectively designed to provide high function with low maintenance.
Industry Stocks
Symbol

Last

Change

Volume

HGR
N/A
+0
0
NSDQ
5269.15
-49.39
1588125058
DOW
N/A
N/A
N/A
As of N/A
Popular Resource Links