Patron Sponsors

Featured Videos
OANDP-L Posts
Yesterday

Jeff Erenstone

Thursday

Jeff Erenstone

Lane Ferrin

Wednesday

Scott Deal

Tuesday

Loren Schubert

Dylan Borrenpohl

dEntremont, Andre RQHR

Monday

tjohnston

Last Week

Bethany Halvorson

dEntremont, Andre RQHR
Advertisement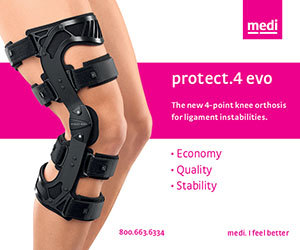 EDGE Quick Credit is a simple way to offer and market one- to two-credit continuing education courses about products advertised in The O&P EDGE. Courses can be taken from the comfort and convenience of your home or office.
Product Directory Highlights
Cascade Offers Catalina™ 631 & 637
The Catalina limits motion and provides effective compression for the relief of lower back pain, making it ideal throughout rehabilitation treatment.
kinderBAND Cranial Helmets - BioSculptor
kinderBAND is a custom made cranial remolding orthosis for infants. Practitioners can send in casts or BioScanner files for fabrication. Files may be uploaded to noplaster.com.
RHEO KNEE® 3 by Össur®
Featuring a faster swing extension, a new kinematic sensor for added stability and a more powerful actuator for increased resistance across a wider range of stance flexion.
LimbLogic Communicator
This software interfaces with a LimbLogic controller via BlueTooth Low Energy technology. For in-office use to easily manage patient LimbLogic units even when patient forgets fob.
Industry Stocks
Symbol

Last

Change

Volume

HGR
22.15
-0.42
205806
NSDQ
4483.715
+30.923
0
As of 10/24/2014
Popular Resource Links