Featured Videos
OANDP-L Posts
Today

Heaton, Mary

Yesterday

Jacob Townsend

Tina Carlson

UTP Journals

Jeremiah Uronis

Wednesday

Kassie Phillips

Markus Saufferer

Steve Scott

Jake Brubaker

Tuesday

Charles King
Advertisement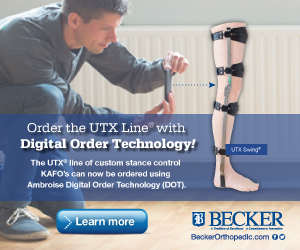 EDGE Quick Credit is a simple way to offer and market one- to two-credit continuing education courses about products advertised in The O&P EDGE. Courses can be taken from the comfort and convenience of your home or office.
Product Directory Highlights
kinderBAND Cranial Helmets - BioSculptor
kinderBAND is a custom made cranial remolding orthosis for infants. Practitioners can send in casts or BioScanner files for fabrication. Files may be uploaded to noplaster.com.
Cascade Offers Knit-rite Patterned Socks
Patterned Core-Spun by Therafirm« Support for men & women are fashionable and look and feel like a soft, comfortable everyday sock with the added benefit of true gradient compression.
Industry Stocks
Symbol

Last

Change

Volume

HGR
N/A
+0
0
NSDQ
6047.61
-1.33
1521734789
DOW
N/A
N/A
N/A
As of N/A
Popular Resource Links