Patron Sponsors

Featured Videos
OANDP-L Posts
Yesterday

Michael Monteiro,CP

mantweiler

Jennifer Halliday

Nathanael Feehan

Monday

Saravanan Sundarakrishnan

Last Week

Scholtes, Laura

Michael Monteiro,CP

Kristin Faircloth

ted

Rachel Sidle
Advertisement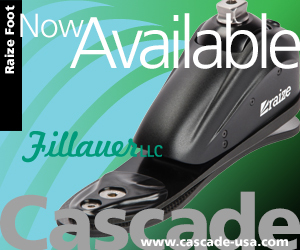 EDGE Quick Credit is a simple way to offer and market one- to two-credit continuing education courses about products advertised in The O&P EDGE. Courses can be taken from the comfort and convenience of your home or office.
Product Directory Highlights
Cascade Offers Hybrid Knee
This fusion of microprocessor controlled technologies gives you a hybrid system that prevents unnerving buckling at the knee, and enables easier walking in greater comfort. Features stance phase and swing phase control.
National Assembly ~ Vegas Sept 4-7 2014
Register today for the largest event for OP&P in the US. Top Scientific, Technical & Business Education ▪ 32+ CE Credits ▪ Great Room Rate ▪ Fun Networking Events ▪ Exhibits ▪ 2,300+ attendees ▪ Much More
kinderBAND Cranial Helmets - BioSculptor
kinderBAND is a custom made cranial remolding orthosis for infants. Practitioners can send in casts or BioScanner files for fabrication. Files may be uploaded to noplaster.com.
WillowWood C-Fab for Socket Work
WillowWood's Custom Fab provides numerous BK & AK socket lamination services: single wall, double wall, LimbLogic, exoskeletal, & flexible inner sockets with laminated frames.
Industry Stocks
Symbol

Last

Change

Volume

HGR
22.61
+0.21
454660
NSDQ
4598.188
+17.917
0
As of 9/2/2014
Popular Resource Links