Special thanks go to prosthetic Resident, Marcus Boren, for suggesting the formation of a P&O Reference Library and particularly for contributing the first digital text. Marcus has scanned the classic UCLA publication from the 1950s that was the first comprehensive manual for upper limb prosthetics in North America.
Although many of the materials and methods now seem quaint [when was the last time you made a test socket from bee's wax?], most of the principles have withstood the test of time. This text is still an excellent foundation to help the novice understand the fundamentals of creating a body-powered artificial limb.
Interested readers can reach Marcus via email at:
Prosthetic Principles
Upper Extremity Amputations

Table of Contents
The above files are in PDF format, which allows you to view and print them as they were originally intended. In order to view or print the files, you will need the Adobe Acrobat plug-in, which can be obtained free of charge from the Adobe web site.
Advertisement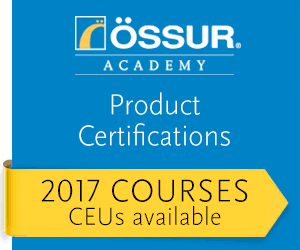 John Michael's Corner
Digital Reference Library